TRANSPORTABLE AND DOT COMPLIANT
Wetted parts become integral to your tanks and are safe to transport, either around your facility or over the road.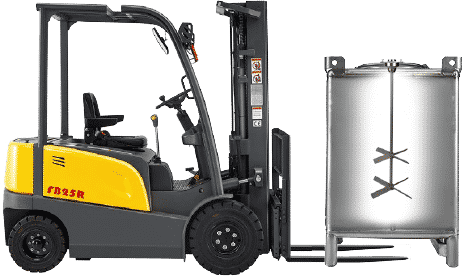 An innovative gearbox design provides speeds up to 500rpm with high torque output.
All units feature a cycloidal disc gear reduction that avoids tooth breakage typical in conventional gearing.
No more monitoring or replenishing oil levels; rolling gear elements result in less friction and less heat than conventional gearing. Whereas conventional gearing uses oil for lubrication our units come factory installed with a maintenance-free grease that lasts years.
Explosion Proof Air and
Electric Motors Available
Approved for use in hazardous areas.
HIGHEST PRECISION STAINLESS STEEL SHAFTING
Pump Shaft Quality (PSQ) shaft is turned, ground, and polished for ultimate precision
Minimizes Deflection,
Vibration, & Runout
Maximizes service life of bearings, couplings, and seals
Tote Mixer Selection Criteria
Take the guesswork out of your requirements.
Liquid
Size of Tote
Power Source
Motor Horsepower
Trans-mix™ is a product platform designed and manufactured by Fawcett Company Inc. of Richfield Ohio. Please contact us for more information on other Fawcett products and services.
Mailing Address:
Fawcett Co., Inc.
3863 Congress Parkway
Richfield, Ohio 44286, USA
Phone: 330-785-7932
Fax: 330-659-6991
Remit-To Address:
Fawcett Co., Inc.
P.O. Box 75703
Cleveland, Ohio 44101-4755, USA